AMD introduces the latest Ryzen 2000 series processors to provide the computing power for gaming need. GIGABYTE's 400-series motherboards perfectly fit the latest AMD Ryzen 2000 series processors' computing performance with more features and more control. Users can enjoy the benefits brought by AMD Ryzen 2000 series processors.

GIGABYTE 400-series maximize your PC's potential with AMD StoreMI technology. StoreMI accelerates traditional storage devices to reduce boot times and enhance the overall user experience. This easy-to-use utility combines the speed of SSDs with the high capacity of HDDs into a single drive, enhances the read/write speeds of the device to match that of SSDs, bolsters data performance for incredible value, and transforms the everyday PC to a performance driven system.
The benefits of AMD StoreMI:
Making the PC experience fast, smooth and easy
Optimizing computer responsiveness from system boot to application launch
Offering SSD performance with HDD capacity at an affordable cost
Quickly accessing key files by automatically learning users' computing behaviors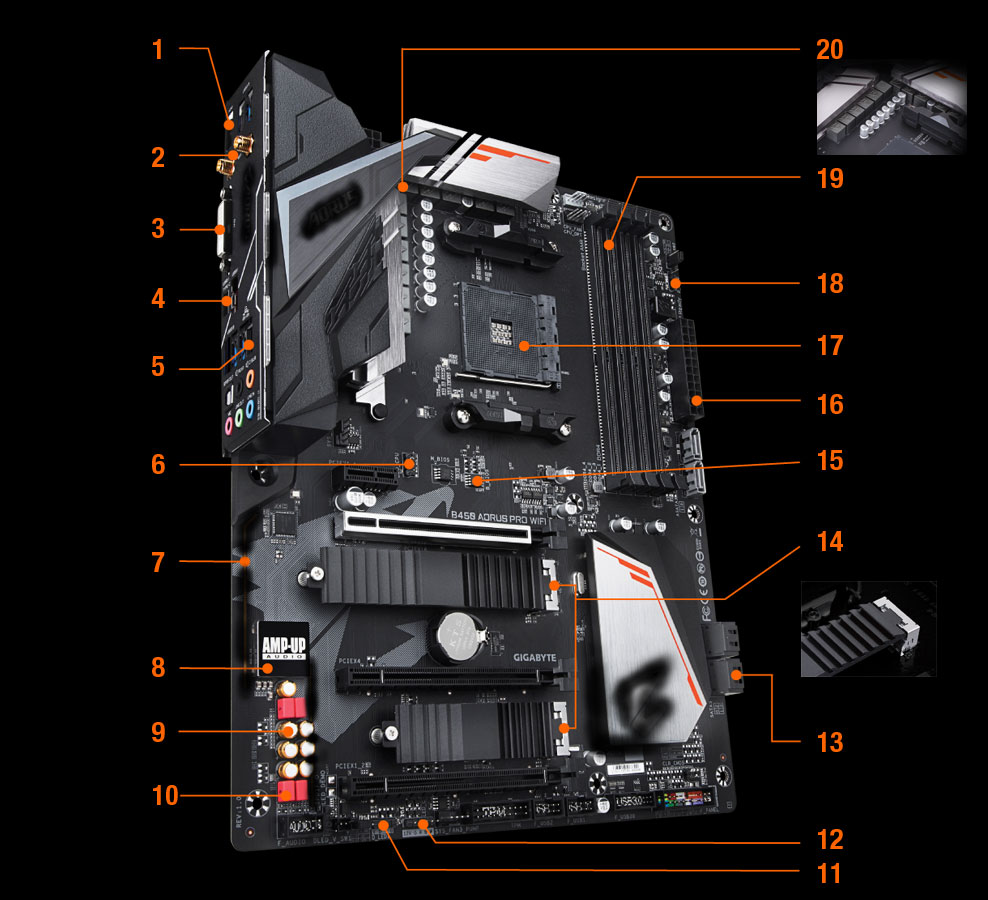 HDMI
Intel Dual Band 802.11ac WIFI & BT 4.2
DVI-D
USB 3.1 Gen2 Type-A + Type-C
Intel GbE LAN with cFosSpeed Internet Accelerator
RGB LED Header
Audio Noise Guard
Audio ALC1220-VB
High-End Audio Capacitors
WIMA Audio Capacitors
Digital LED Header
RGBW LED Header
SATA3 Connectors
Dual M.2 Connectors with Dual Thermal Guards
DualBIOS
Solid Pin Power Connectors
Supports AMD Ryzen Series Processors
Digital LED Header
Dual Channel DDR4, 4 DIMMs
8+3 Phase Hybrid Digital PWM

8+3 Hybrid Digital Power Design
Optimized for the 2nd Gen AMD Ryzen CPUs
Intersil Digital PWM + Lower RDS(on) MOSFETs
AORUS 400-series motherboards use a 8+3 phase PWM + Lower RDS(on) MOSFETs design to support the 2nd Gen AMD Ryzen processors by offering incredible precision in developing power of the motherboard's most power-hungry and energy-sensitive components as well as delivering enhanced system performance and ultimate hardware scalability.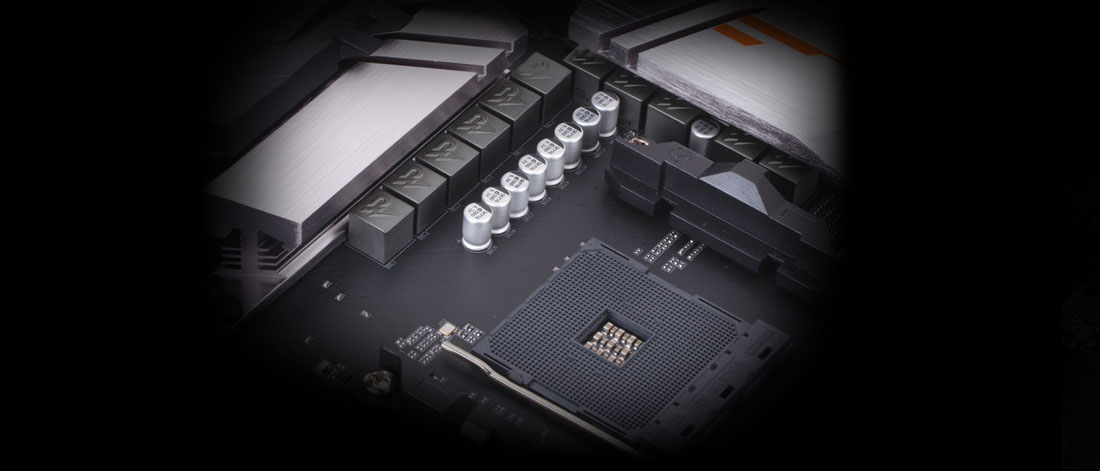 Benefits of Lower RDS(on) MOSFETs
Optimized gate charge to minimize switching losses.
Lower temperature, smaller size, better thermal characteristics.

Dual NVMe M.2 PCIe SSDs in RAID
Extreme Performance with PCI-E x4 NVMe PCIe SSDs
With Dual M.2s available on the AORUS X470 motherboards, configuring RAID Arrays has never been simpler.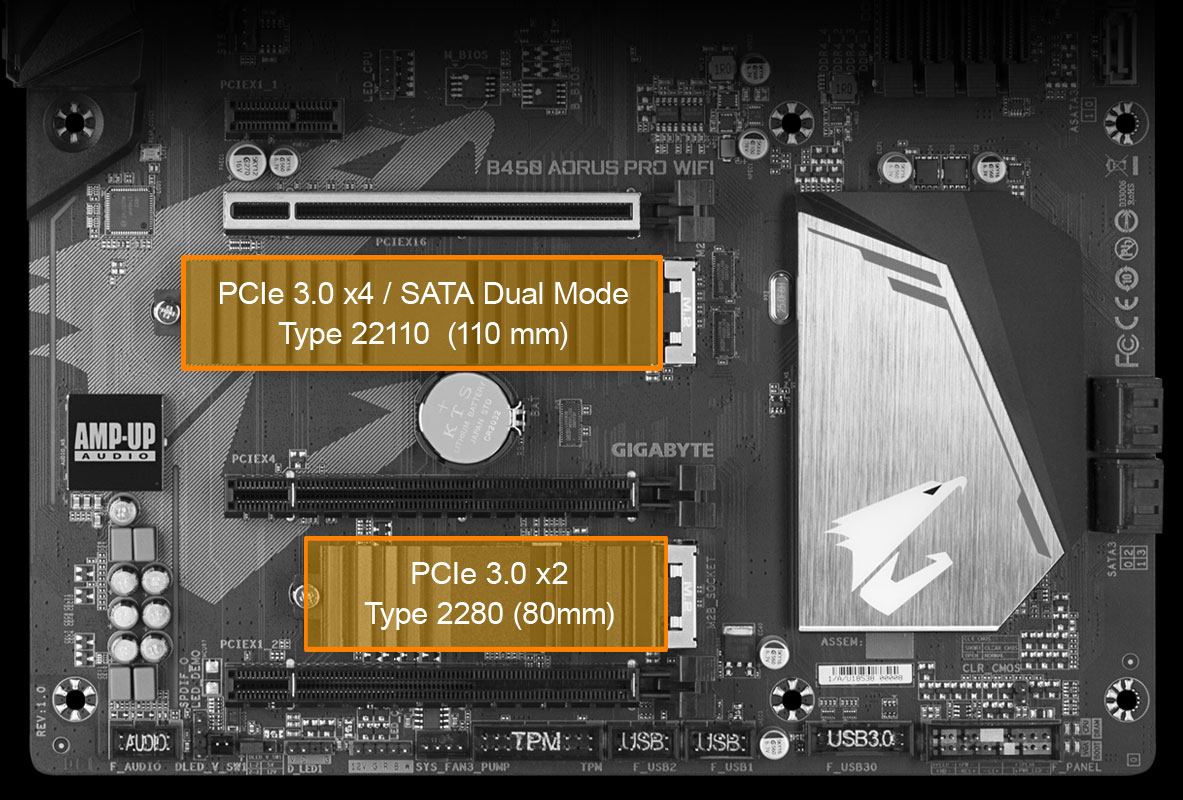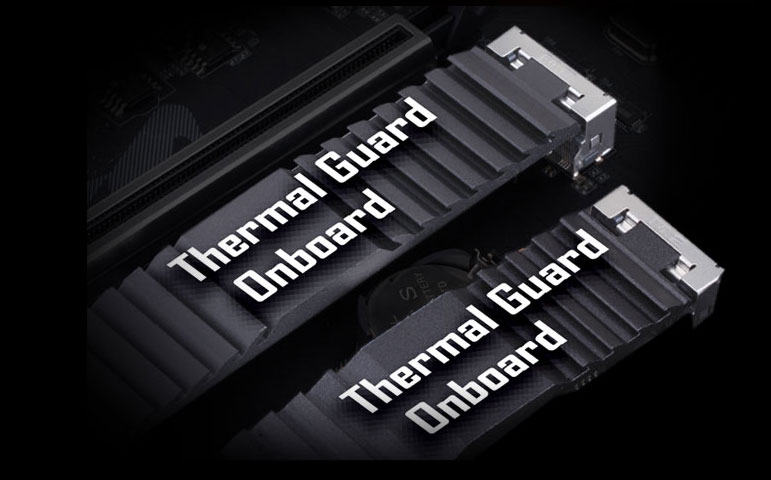 AORUS M.2 Thermal Guard
GIGABYTE Ultra-Efficient M.2 Thermal Guard
With durability in mind, GIGABYTE provides a thermal solution for M.2 drives. The M.2 Thermal Guard prevents throttling and bottlenecks from M.2 devices as it helps to reduce and dissipate heat before it becomes an issue.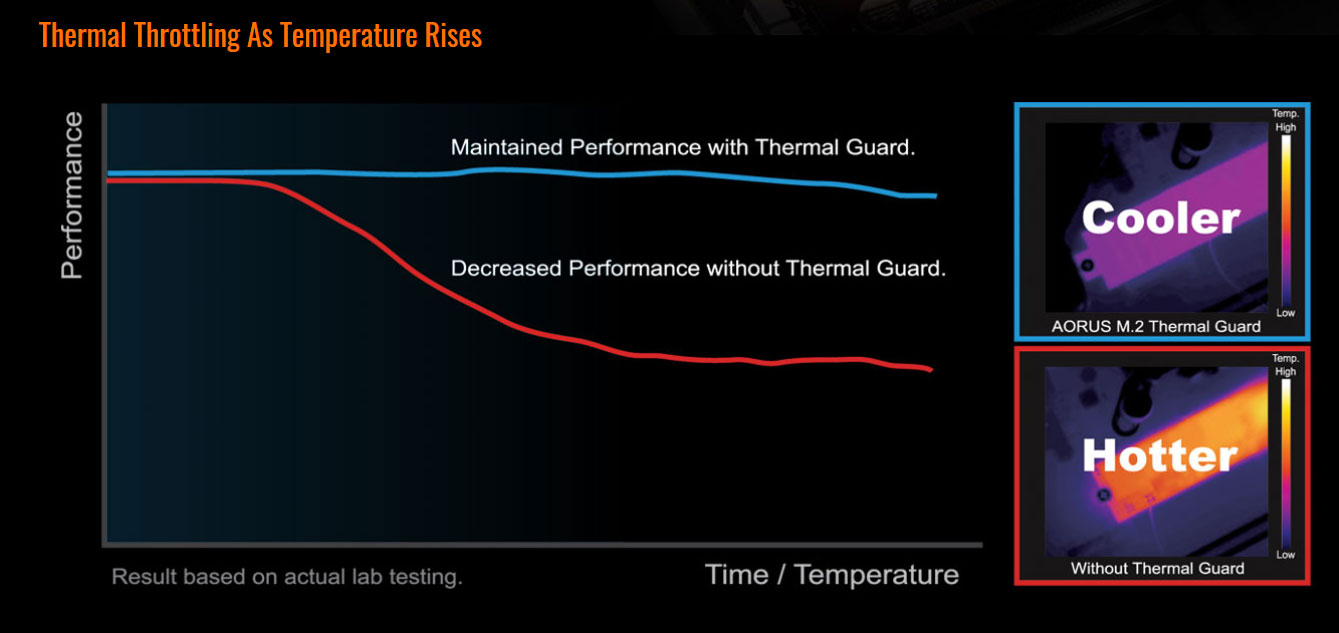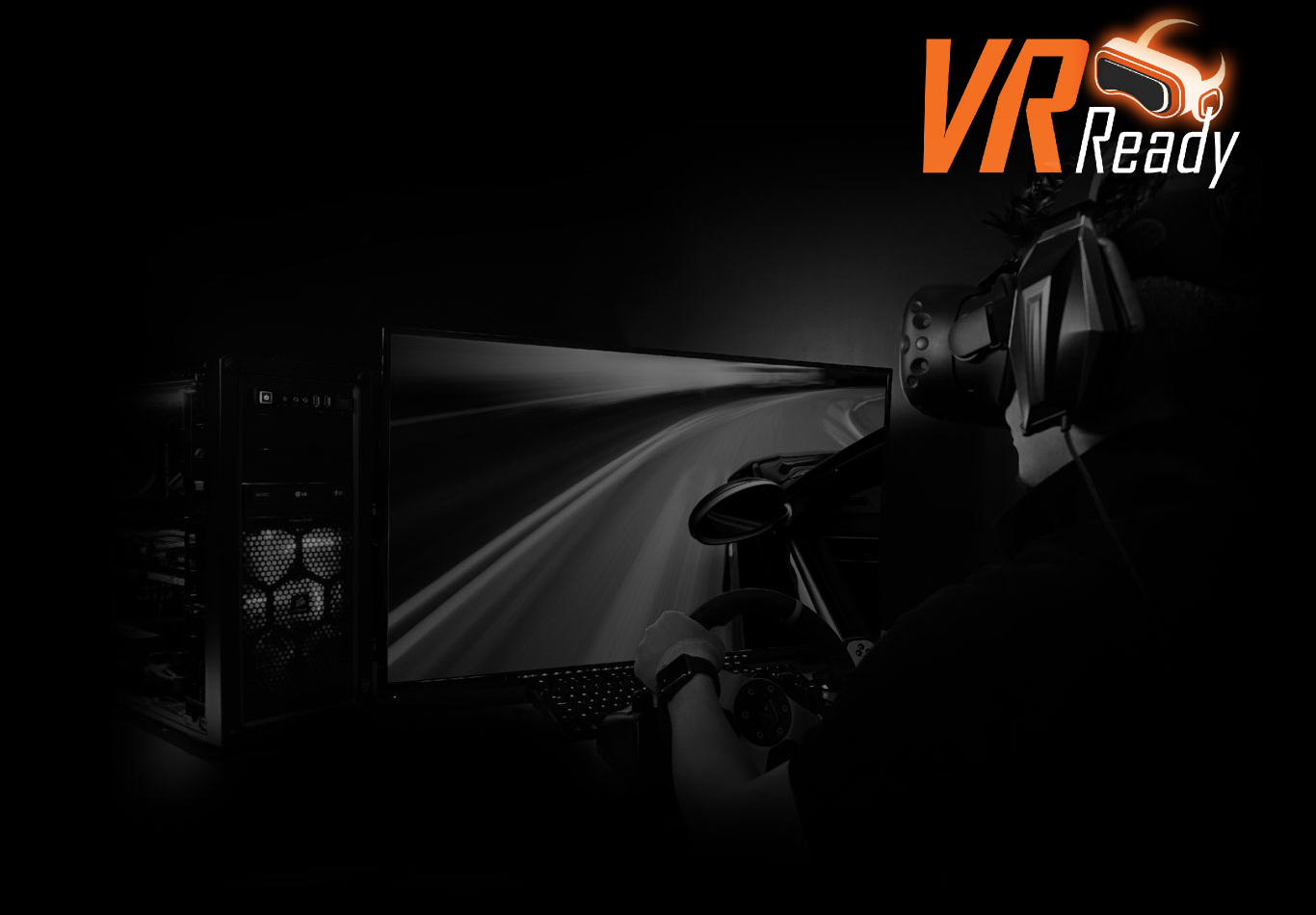 Immersive VR Gaming Experience GA-AX370-Gaming
VR requires more performance than Full HD graphics for a steady 90FPS or greater.
Only Gaming PCs can provide the best VR experience.
Recommended configuration for VR Gaming PC

Graphics Card: NVIDIA GTX 1050 / AMD R9 290 or greater, Compatible HDMI 1.4 video output
CPU: AMD Ryzen 7 series processor
Motherboard: GIGABYTE AMD X470 / B450 motherboards
Memory: 8GB RAM or greater
USB Ports: 3x USB 3.0 ports plus 1x USB 2.0 port or greater
OS: Windows 10 64-bit or newer
To create a seamless VR experience AORUS Motherboards offer the best features to make your virtual reality feel like your actual reality. With technologies such as NVMe support via M.2 or U.2 and a one piece metal shielding to brace for heavier discrete graphics cards it's obvious that AORUS has the tools you need to start your journey in VR. To set the mood AORUS Motherboards include RGB Fusion to put you in the center of action. simpler.

Faster and Better Coverage with Intel Dual Band 802.11ac WIFI + BT 4.2 Module
The onboard 802.11ac WIFI module from Intel supports Dual Band and up to 433 Mbps, 3x faster WIFI speed than 802.11n and also support BLUETOOTH 4.2.

Native USB 3.1 Gen2
AMD 400-series chipset provides native USB 3.1 Gen2 ports with speeds up to 10Gbps. 2x faster than USB 3.1 Gen 1 along with backwards compatibility with existing USB devices.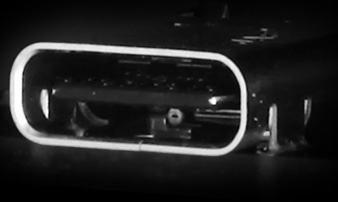 Connecting the Future - USB Type-C:
The World's Next Universal Connector
Reversible USB Type-C with USB 3.1 Gen 2

Intel GbE LAN with cFosSpeed Internet Accelerator Networking
Intel GbE LAN features cFosSpeed, a network traffic management application which helps to improve network latency and maintain low ping times to deliver better responsiveness in crowded LAN environments.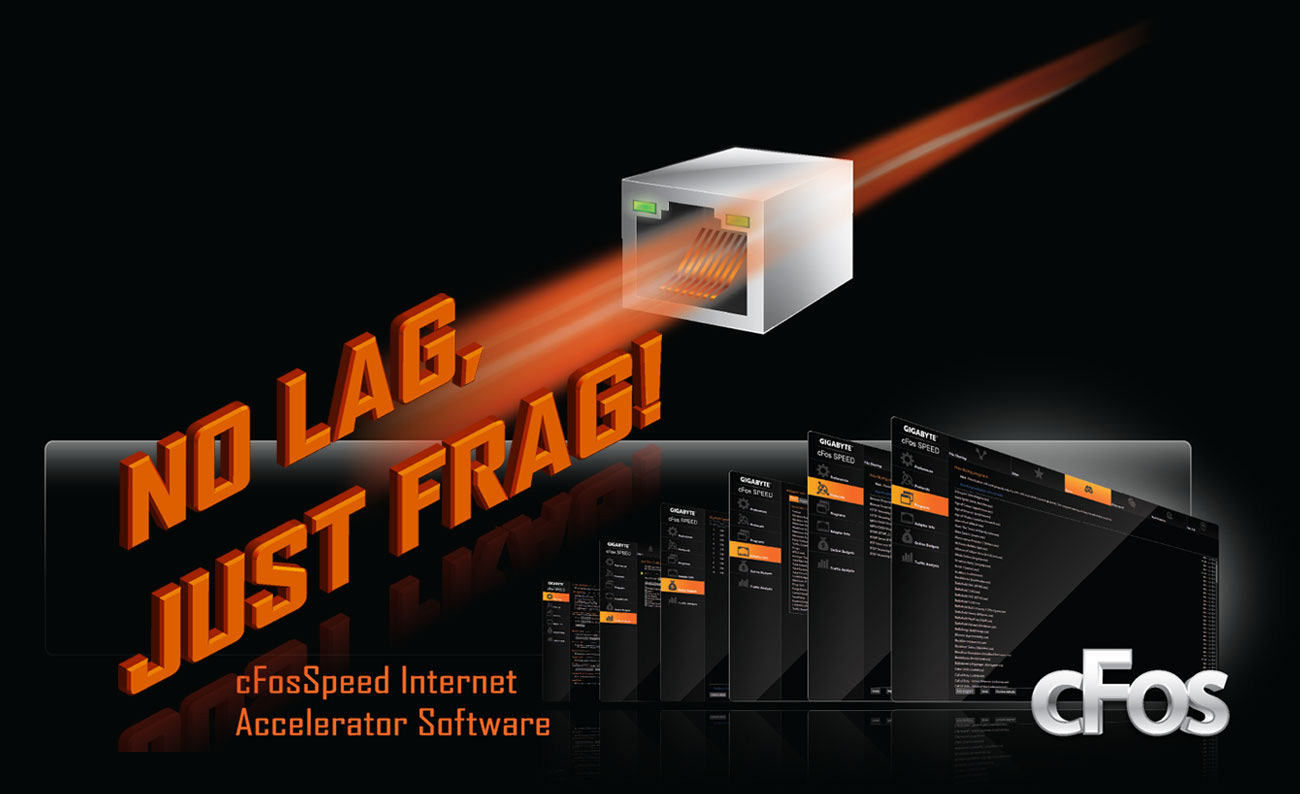 ALC1220-VB Immersive Gaming ViBes
All New Realtek High-End HD Audio Codec
ALC1220 120dB(A) SNR HD Audio with Smart Headphone Amp automatically detects impedance of your head-worn audio device, preventing issues such as low volume and distortion.
New VB series audio controller stream your voice to the world vibrantly with both front/rear microphone SNR up to 110/114dB(A).


No More Confusion
During In-Game Voice Chat
Microphone input with higher front dynamic range allows gamers to hear more clearly. No more misunderstandings, no more confusing GO! GO! GO! as NO! NO! NO!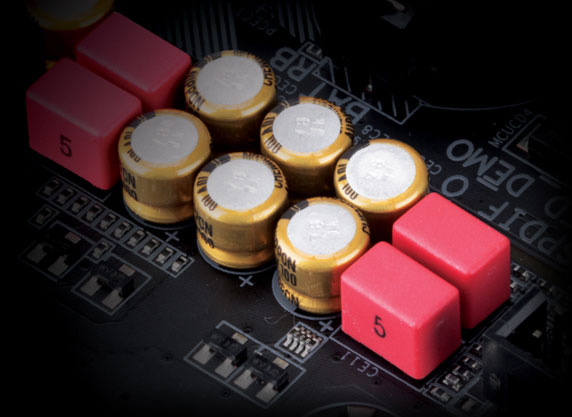 High-End WIMA & Audio Capacitors
The AORUS motherboards boast a combination of Hi-Fi grade WIMA FKP2 capacitors and high-end Chemicon audio capacitors. While the high-end audio capacitors are suited for high-grade audio equipment, using state of the art technology to provide rich sound in the bass and clearer high frequencies, the WIMA FKP2 capacitors are being used widely in premium grade Hi-Fi systems. The addition of this to the exclusive AOURS AMP-UP Audio technology makes for the ideal onboard sound solution for the most demanding audiophiles.

RGB Fusion with Digital LEDs Support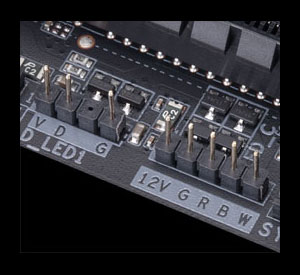 With AORUS Motherboards, RGB Fusion is even better with Digital LEDs.* RGB Fusion offers users the option to control onboard RGB and external RGBW / Digital LED light strips for their PC. Already feature filled with colors and patterns, RGB Fusion on AORUS Motherboards are now upgraded with Digital LED support. With external digital LED strips*, where each LED is digitally addressable, users can experience even more patterns, styles, and illuminations.

AORUS Gaming Motherboards will support either 5v or 12v digital LED lighting strips and up to 300 LED lights. RGB Fusion with Digital LEDs comes with 9 new patterns and various speed settings with more to come.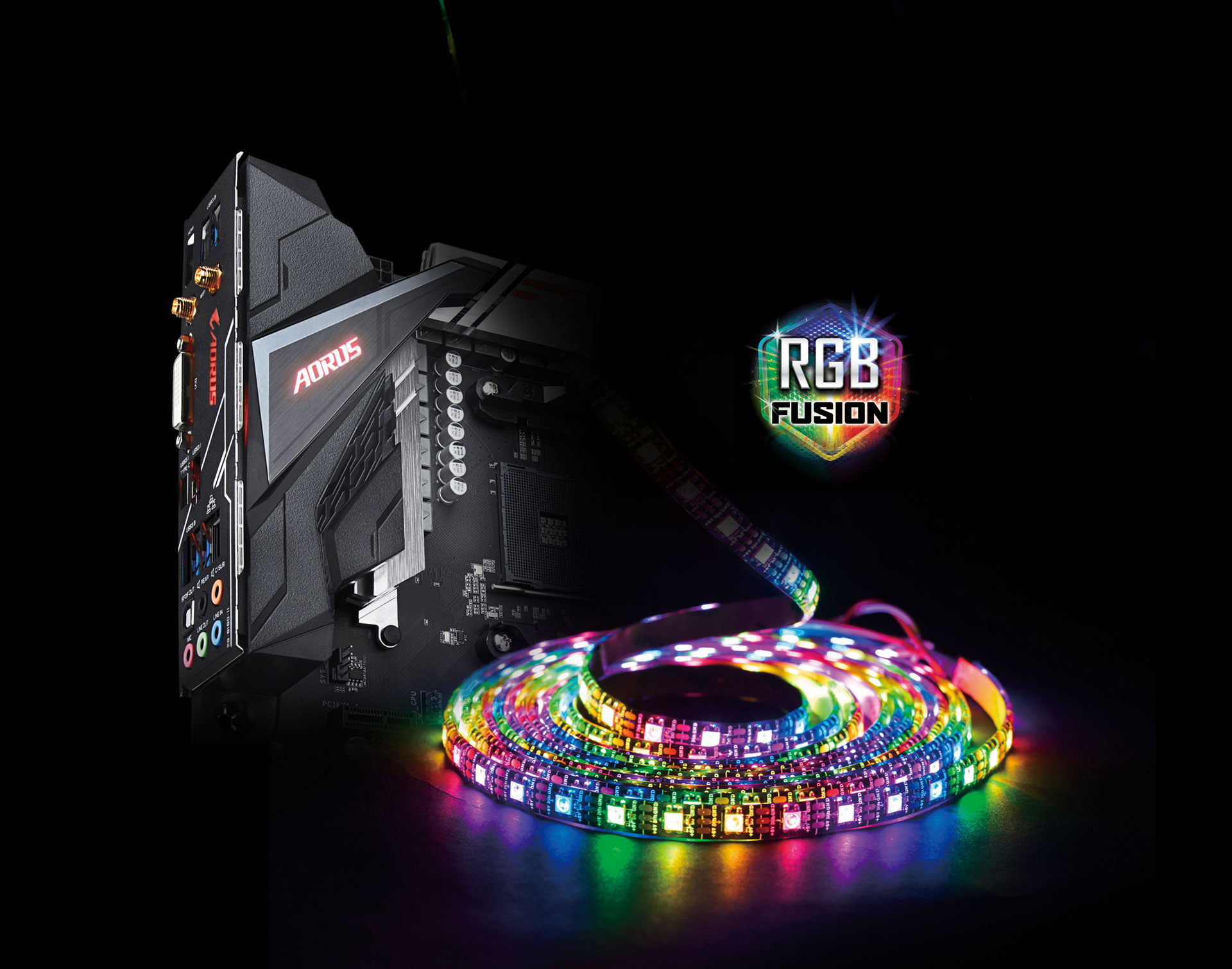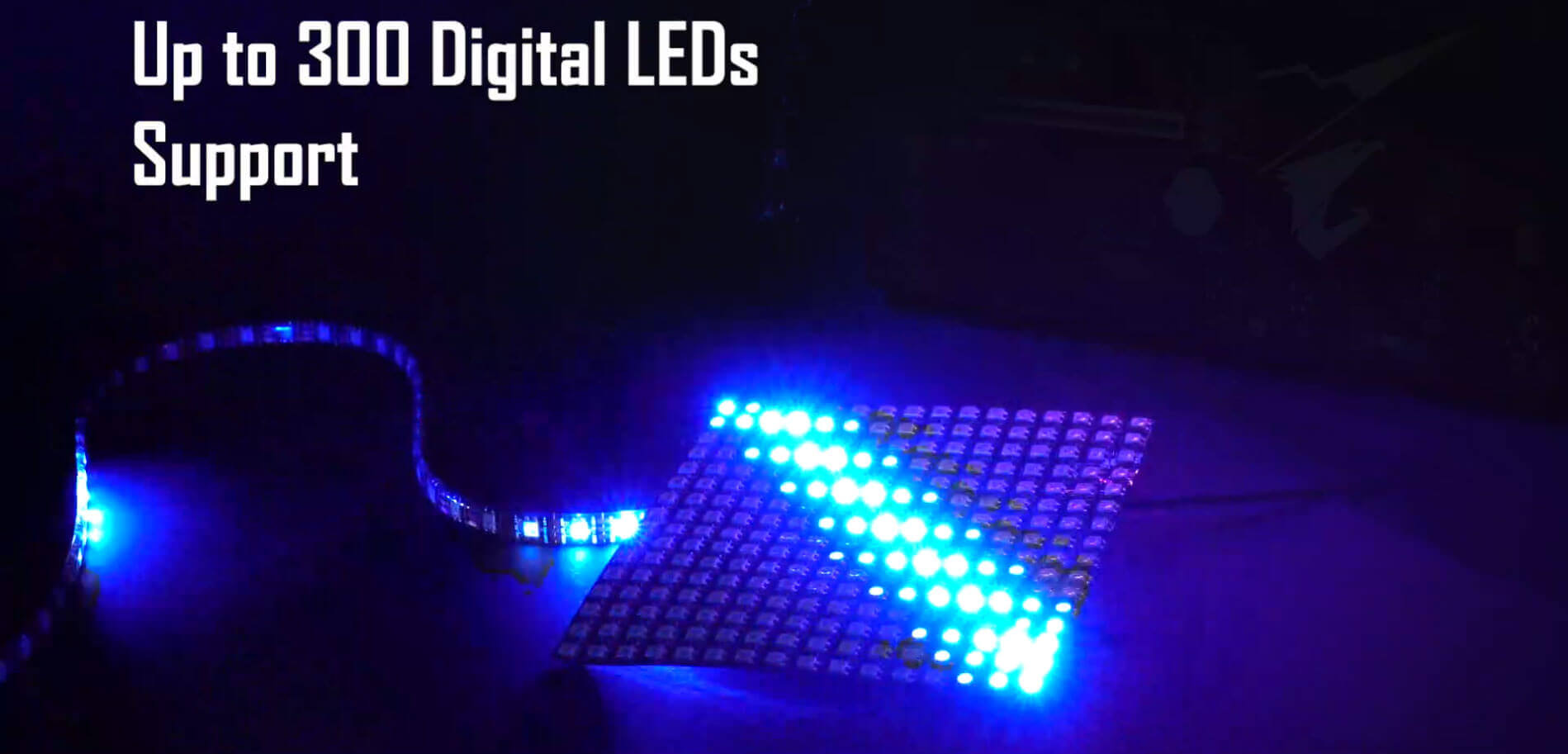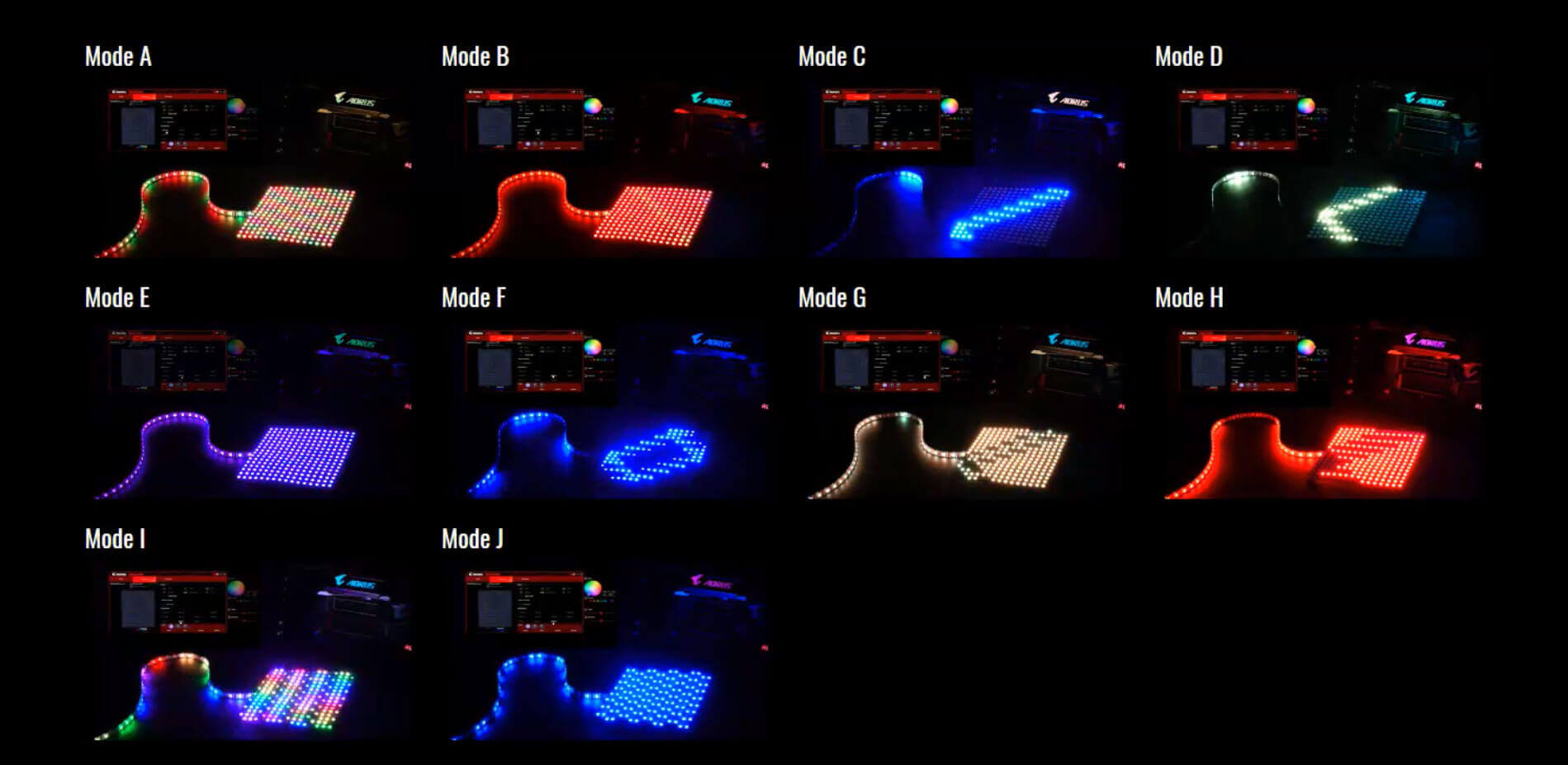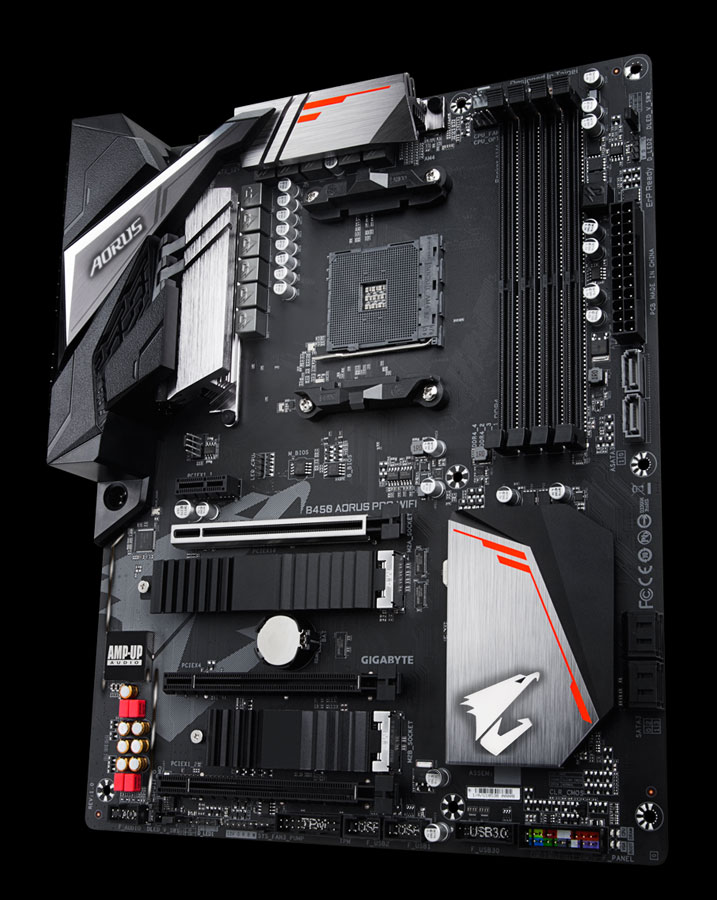 Multi-Zone Light Show Design
Now offering more LED customizations than ever, users can truly adapt their PC to represent their lifestyle. With full RGB support and a redesigned RGB Fusion application, the user has complete control over the LEDs which surround the motherboard.

Basic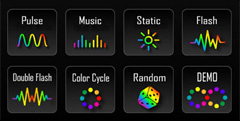 Advanced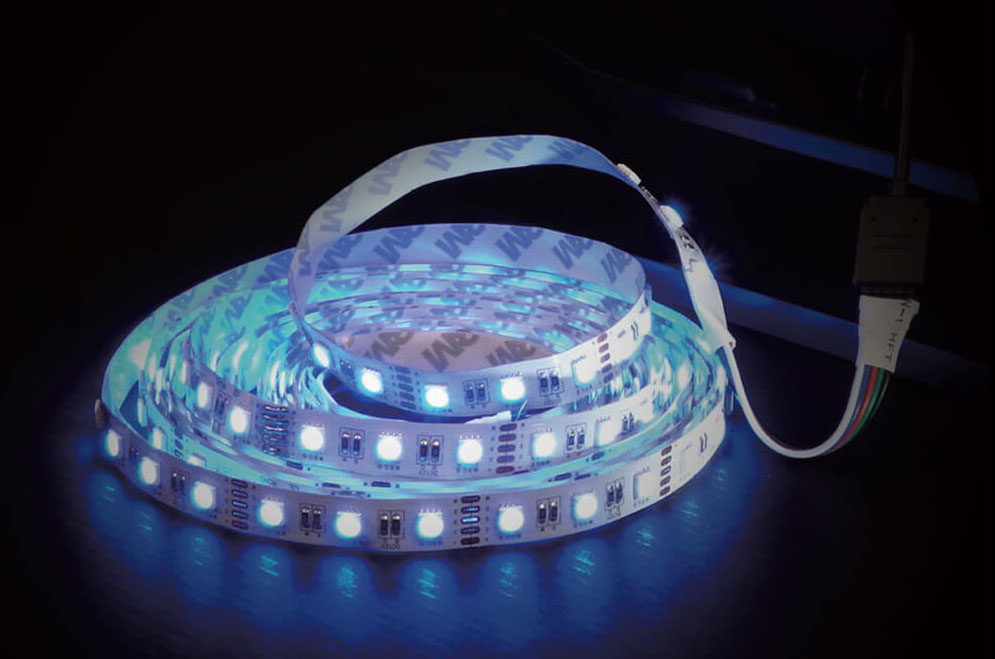 Supports RGBW & UV Light Strips
Independently Programmable Onboard Pin Header for RGBW/UV LED Strips
Not bright enough? You can install standard 12V external RGB, RGBW or RGB/UV light strips on the RGBW pin header and control its color from the RGB Fusion software. Using a RGBW light strip with a dedicated white LED, users will experience brighter and more vibrant shades of colors.

RGB Fusion (Advanced mode)
With the all new RGB Fusion software, users have access to different preset LED lighting configurations with choice of colors. You can even set the LEDs to synchronize with your favorite music or have them change colors to indicate the CPU temperature. For true lighting experts there is an Advanced Mode, which can be fully customized by individual area with its own effects and color transitions, along with specific duration and transition times. along with specific duration and transition times.along with specific duration and transition times.
Synchronize with RGB FUSION READY Peripherals
With a dazzling array of products supported, RGB Fusion is the software that brings it all together, letting your accessories synchronize to the same beat.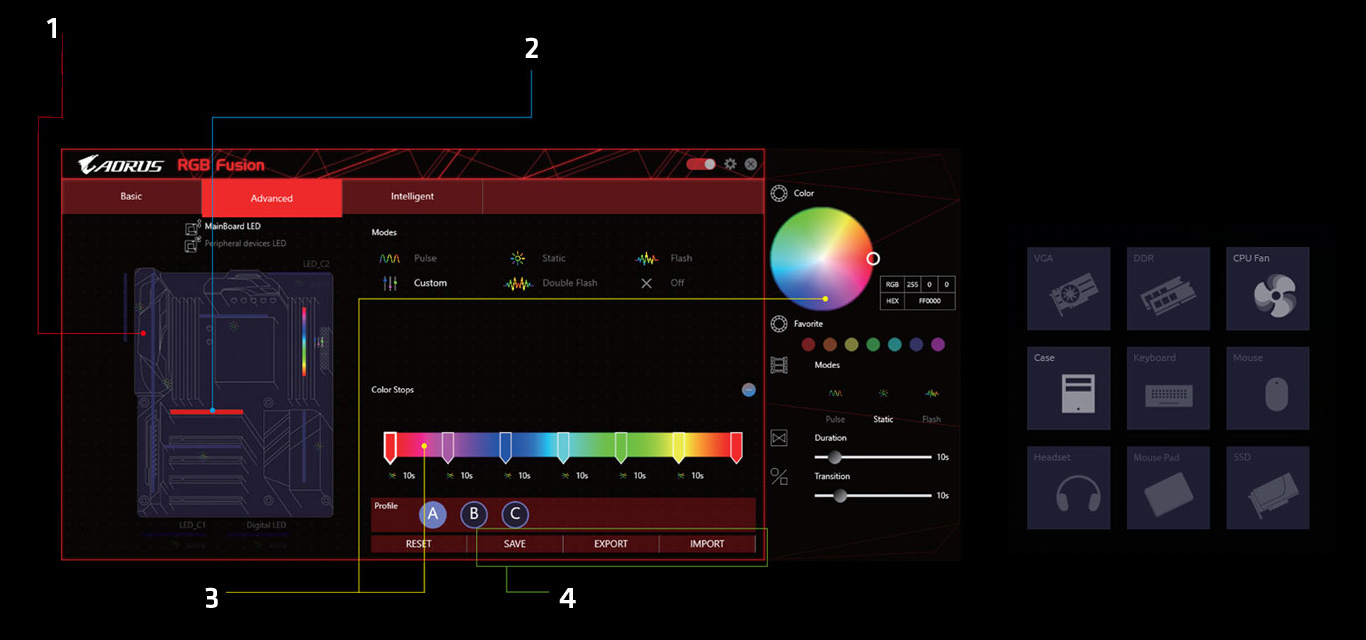 Independent Control


Customized different color for different section of board

Synchronize with RBG FUSION READY Peripheral


With a dazzling array of products supported, RBG Fusion is the software that brings it all together, letting your accessories synchronize to the same beat. Customize all your LEDs how you like-have them match, dazzie and impress.

Fully Customizable


Adjust lighting animation with color stops, color duration, trnsition period, and color effects.

Lighting Profile


Save, export and import profiles to quickly change effects based on your preference and to share with others.
GIGABYTE RGB Fusion APP
Don't just make your PC shine, make it a work of art that friends will envy. With the GIGABYTE RGB Fusion mobile app users can watch as they control the lighting within their gaming PC. This gives users ease of access as they try and adjust colors and speeds for different modes, all this can be achieved away from the keyboard and monitor of their PC.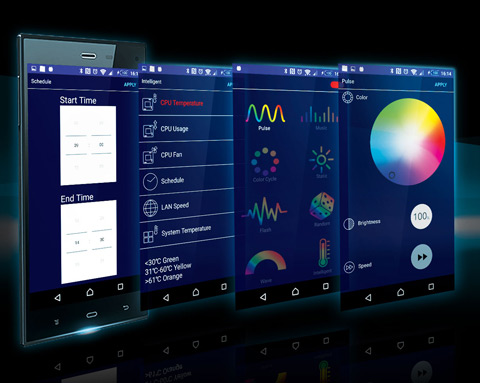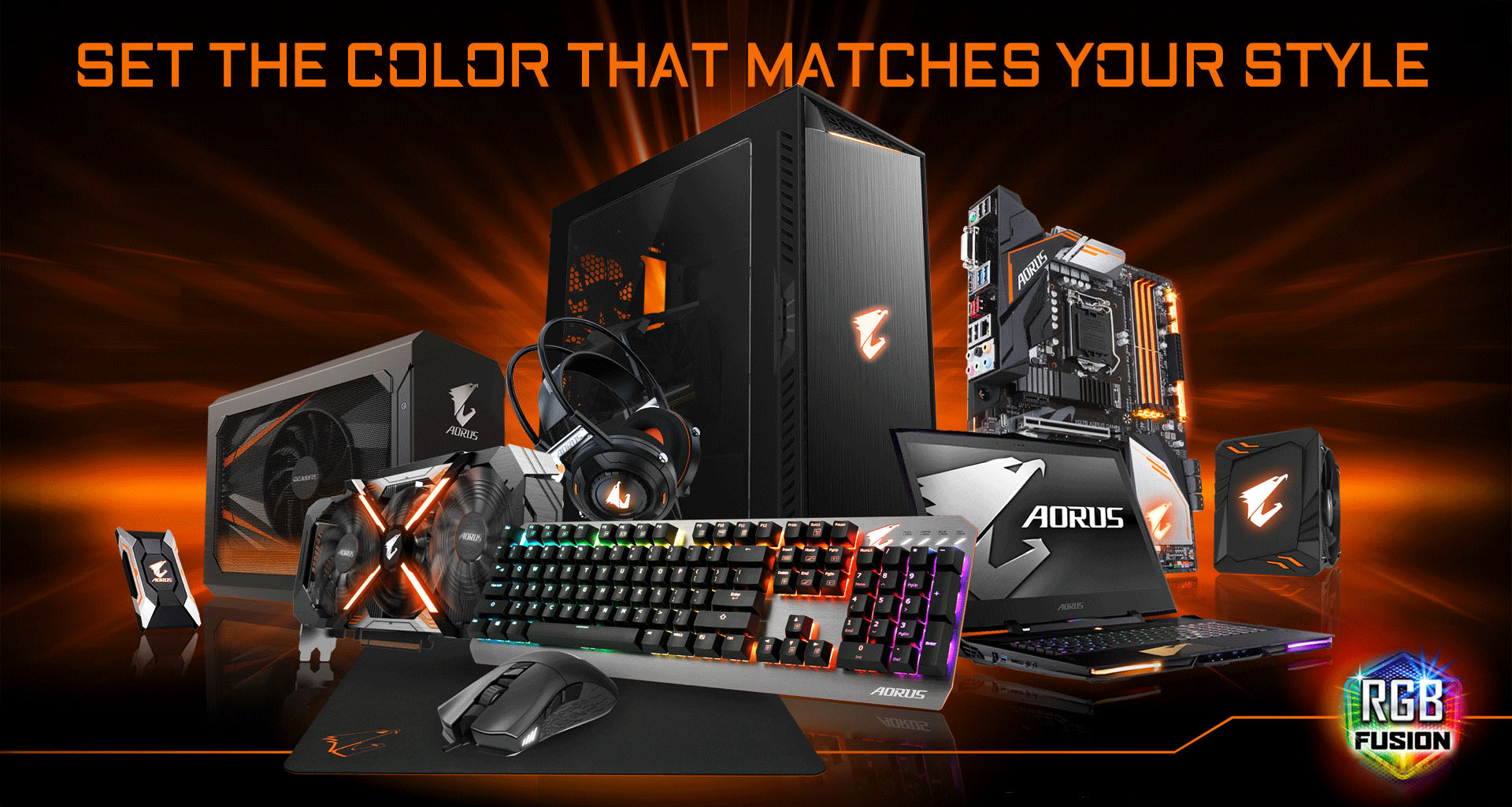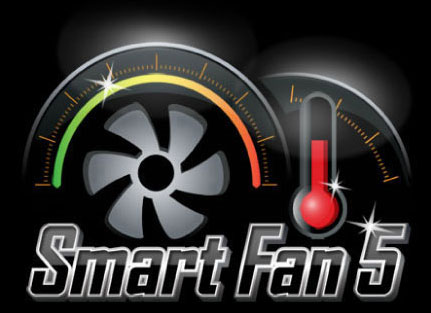 Smart Fan 5
With Smart Fan 5 users can ensure that their gaming PC can maintain its performance while staying cool. Smart Fan 5 allows users to interchange their fan headers to reflect different thermal sensors at different locations on the motherboard. Not only that, with Smart Fan 5 more hybrid fan headers that support both PWM and Voltage mode fans have been introduced to make the motherboard more liquid cooling friendly.

5 Fan Pin Headers
6 Temperature Sensors
All Fan Pin Headers Upgraded to Hybrid Fan Headers